SOAP Board with FPGA
Digilent AD2 is a great device but we figured out a lot of limitation of this device to explore in timing details memristors behaviour. To overcome this limitation the FPGA is used as the main timing coordinator . In addition, memristors needs driving circuitry as analog switch or muxes for programming , erasing and be used in the application circuit. The main issue for classic analog switch or muxes are speed limitation, capacitive effect & size. We based our development on MOSFET Back to Back topology that is offering a design stage with only 2 transistors & 2 discrete components.
Before creating our own board including full driving stage & fpga, we preferred to validate the concept with the usage of FPGA evaluation board from LATTICE.
The board offered a powerful FGPA, a lots of direct I/O ( X2 & X3 connectors) and a programming interface by USB ( bottom side ).
As AD2 Evaluation the targeted memristor for this board is a tungsten or Carbon SDC in DIL16 from Knowm inc .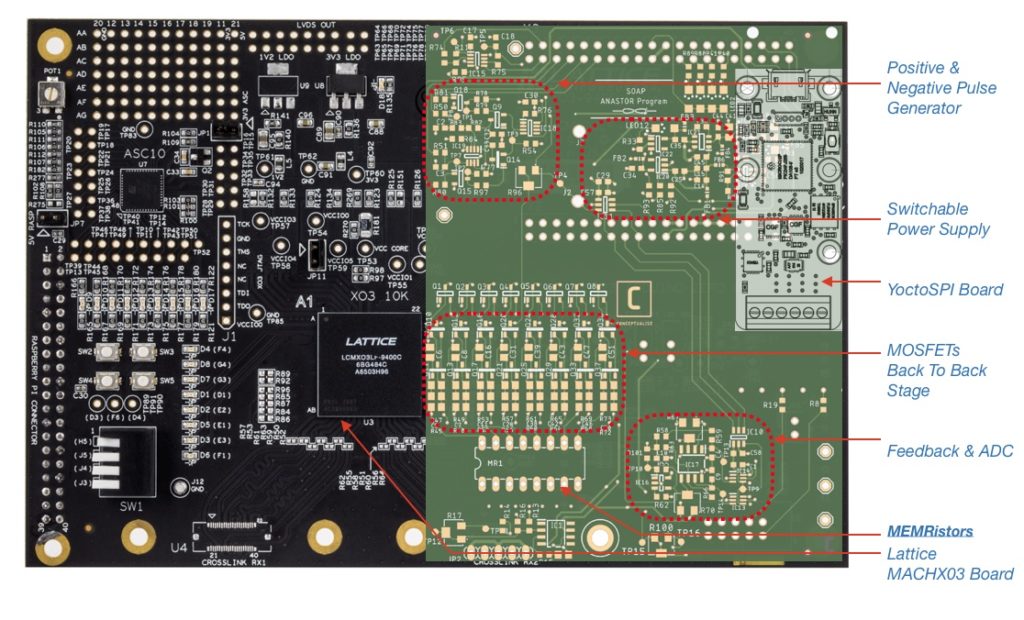 If you are interested by having these boards for investigations don't hesitate to contact us for a quotation.
JP Guarrera – Manager & Principal Engineer jp.guarrera@conceptualise.be